In this section, we will review options and solutions for two of the biggest challenges for online stores. These are shipping and taxes. The key to each is to make the process as simple as possible for both you and your customers.
Default Shipping
Go to Shipping to see that there is a single shipping method called Standard Shipping: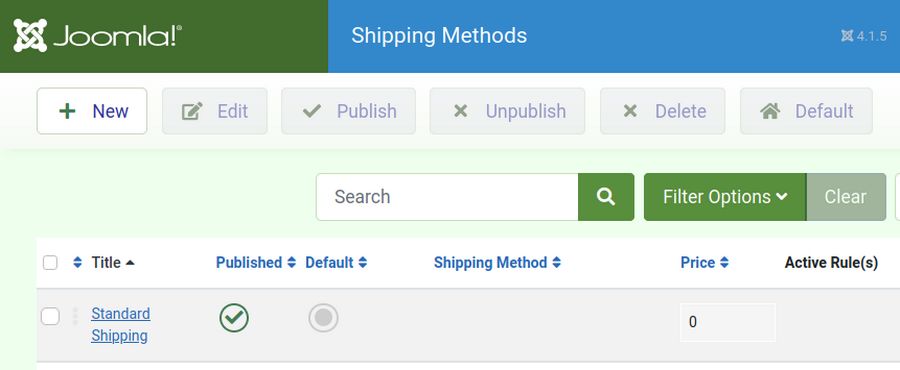 Click on it to edit it.

Because shipping methods can get incredibly complex, there are 12 tabs which you can configure – if you happen to be a glutton for punishment. Let's look at these 11 tabs.
Here is the Quantity Rule: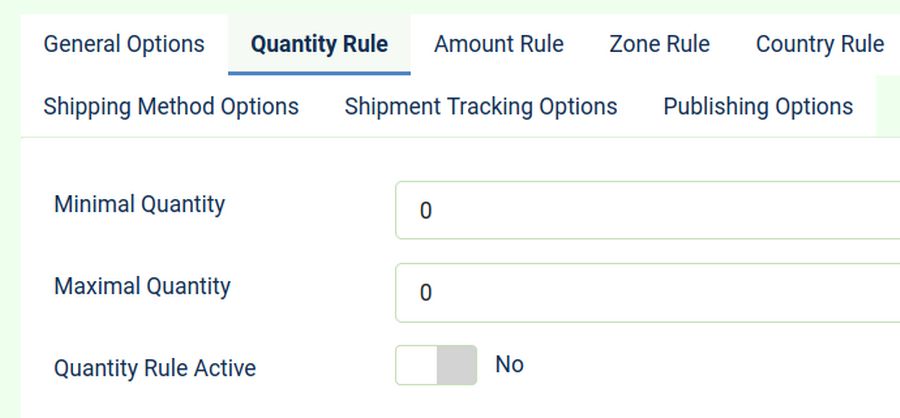 Here you can set the minimum and maximum quantity to get Free Shipping (which we will change this to in a moment). This is set for No. Here is the Amount Rule tab: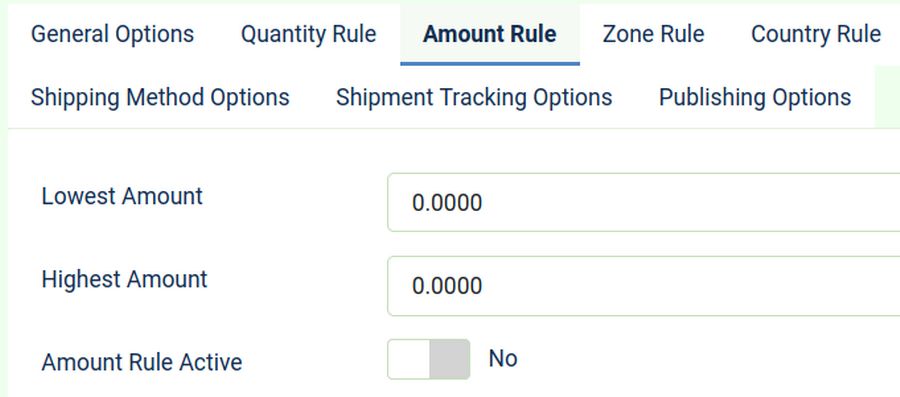 Here you can set a base amount for shipping and a maximum amount. Thankfully, this rule is set for No. Here is the Zone Rule.

Here you would set up some zones. For example, the US can be one zone that gets free shipping and the rest of the world you can charge $10. The country rule is the same as the zone rule, but you would set up countries instead of zones. Regions are the same except that regions would be parts of a country such as States. Here is the Weight Rule:

Here you can set the maximum weight that would qualify for Free Shipping. Size rule is similar in that you can charge more for bulky products. Here is the Shipping Tracking options: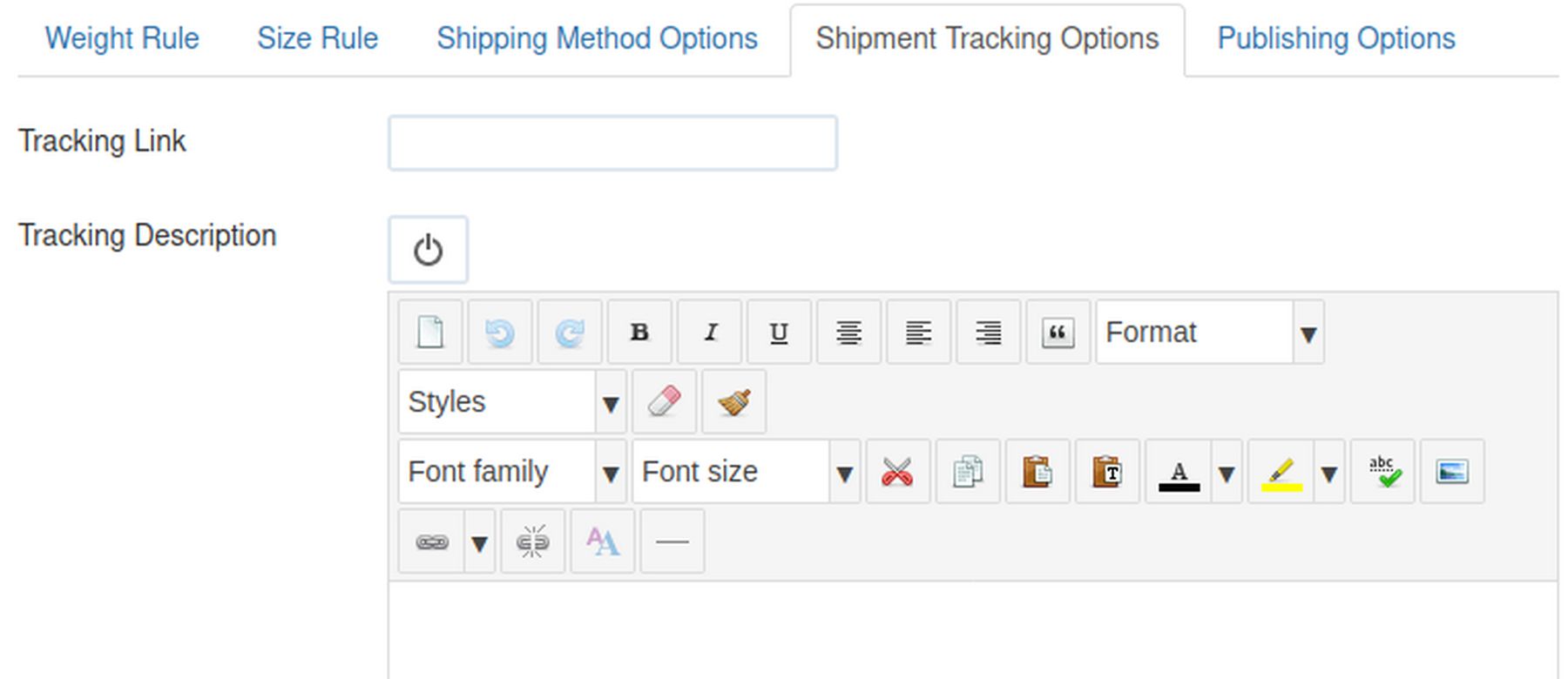 Assuming you use exclusively USPS or UPS, you would insert their special tracking link here and add a description of how the customer can track their package online using this service.
Create Free Shipping
Close Standard Shipping and go back to Shipping Methods screen. Then click New and call the new shipping method USPS Free Shipping. You can also add a Description explaining whether you ship UPS or USPS and about how long it takes to ship a package.
For example:
We provide free shipping with all of our products shipped within the US. You can choose either parcel post or UPS. Allow about one week to receive your product.
Then click Save and Close. Then add a second method called UPS Free Shipping with the same description. Then click Save and Close. Then unpublish Standard Shipping and make USPS Free Shipping the default option:

Note: Phoca Cart also comes with a Free Shipping Plugin which you can activate by going to Extensions, Plugins, Free Shipping. To activate this plugin, go to Joomla Extensions, Plugins.
Enabling this plugin would display this notice letting customers know how much more they need to order to get Free Shipping: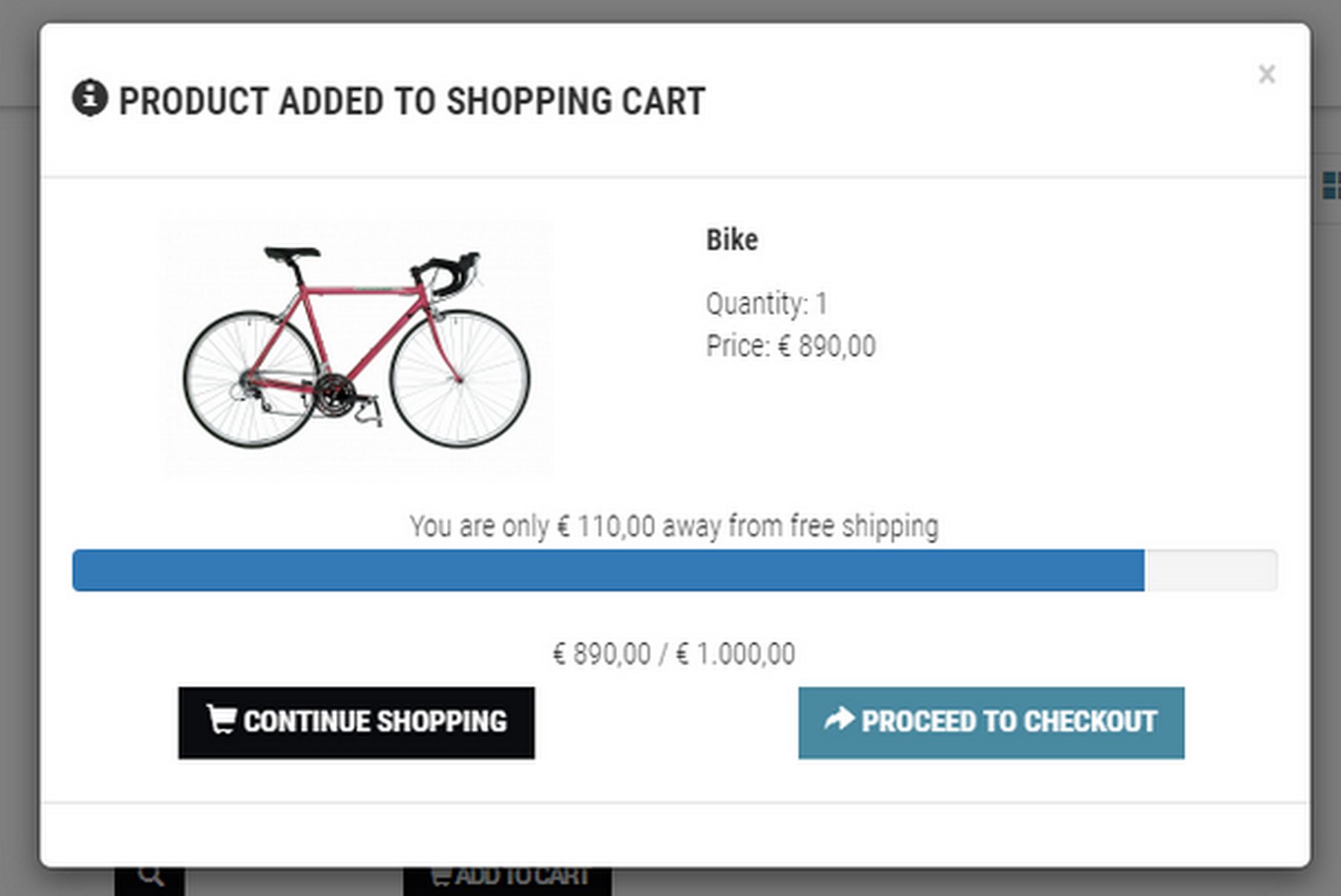 Then order a product to see if the new shipping options appear.

Free Shipping Tools
In addition to owning and managing my own store for ten years, I also spent more than a year working in the shipping department of one of the world's largest mail order chains. This was before the days of the internet. But I personally shipped thousands of boxes and never once used a Shipping Plugin! My first word of advice is that you can set up an account with USPS, UPS and Fed Ex without using a Shipping Plug In. There are many other ways to print out a shipping label and calculate the cost of shipping. Don't let the shipping issue interfere with starting your online store. Shipping is not a big deal. Just set up your shipping outside of your Phoca Cart store.
Second, I think it is a mistake to set up a complex shipping system when neither you nor your customer can predict the cost of shipping. It is true that USPS and UPS have complex shipping cost tables using zones and weights and dimensions of boxes. Somebody needs to pay the shipping cost. My advice is that you as an online retailer should happily pay that cost – and then write it off as a cost of doing business.

Studies and surveys have shown that the number one "feature" that will increase your sales as an online store is offering FREE SHIPPING. If you think about it, it only makes sense. Your customer could drive to the local brick and mortar store (paying gas) and buy the product without paying shipping. They should therefore be able to buy the product from you without paying shipping.
Comparing the Overhead Costs of a Brick and Mortar Store to an Online Store
Having worked in both retail stores and mail order businesses, I have seen directly that they have significantly different overhead costs. For example, let's take two small stores which each have gross sales of one million dollars per year. Both the traditional store and the online store have to pay the manufacturer to produce the product. This wholesale cost is about the same for each and is about 50% of the retail price. But the remaining 50% is split in very different ways.
With a traditional store, the leasing of a retail space is very significant at 20% of total sales. They also have to pay for employees to staff the store anytime the store is open – even when there are no customers in the store. This labor cost is likely over 20% of sales. So a store which does a million in sales should plan to spend $200,000 in rent and another $200,000 in labor cost.
By contrast, an online store does not really have either of these costs. The hosting for your website is only $240 per year and there is no employee cost – other than having you set up you website and having you or someone else ship the product. Many online retailers even outsource the warehousing and shipping of their products to "Order Fulfillment Centers" which specialize in shipping products for online retailers.
Even if shipping is 10% of the cost of the product, an online retailer should have a lower total overhead than their traditional competitors. I also recommend paying the taxes for the customer for the same reason. You want to keep the customers buying experience as friendly, simple and rapid as possible.
The best way to improve your sales as an online store is to remove the two primary obstacles in the eyes of the customer... These are shipping and sales taxes. You will still pay for both of these costs, but the costs will be invisible to the customer. Another possible option would be to provide free standard shipping and charge a flat rate, such as $5 or $10 for RUSH shipping and handling.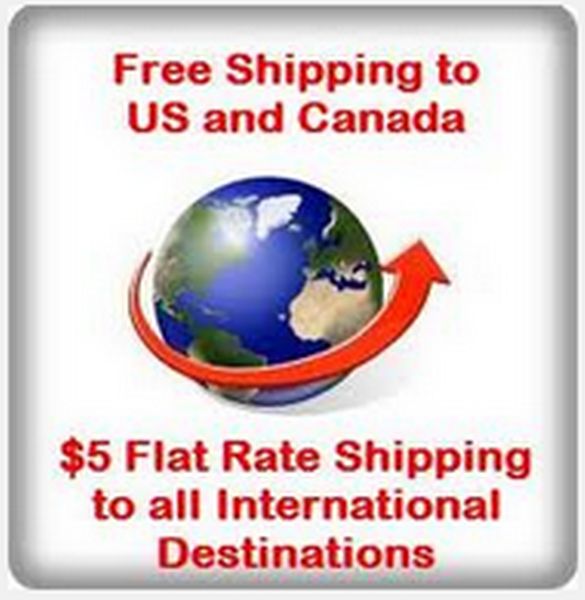 USPS and UPS Shipping Setup
Now that we have our in shop shipping set up, we next need to define our shipping processes with the US postal service (USPS) and the United Parcel Service (UPS). You may also want to set up an account with Federal Express. One important issue is whether your products are time sensitive. If so, then you should offer your customers next day delivery – and have a clearly defined set of charges that cover this service.
Even if you do not charge your customers for shipping, USPS and UPS will still charge you. In addition to paying for postage, you will also have to pay for packaging and provide the staff and/or time to process the orders. For a business with thousands of orders, it is very important to build an efficient well organized process.
One option is to have different shipping methods linked to different shippers. This allows your customers to decide which shipper works best for their location depending on where they live. For example, some customers live so remotely that they only have a post office box. It could be that UPS may not deliver to their address. On the other hand, the customer may have a normal address, but not have post office delivery. It could be that UPS would deliver to homes that the Post Office does not reach. The person who is most likely to know which shipping option is best is the customer. This is why it is useful to let them pick the shipping method they prefer and decide how fast they need the product at the same time that they make their purchase.
Open a USPS account
Whether you use a plugin or not, you will need to set up an account with USPS and/or UPS and/or Fed Ex. To request access to the USPS production API, use the form here:
https://secure.shippingapis.com/registration/
You will receive an email with the registration information, and with your username.
USPS Postage Price Calculator

UPS Time and Cost Calculator
https://wwwapps.ups.com/ctc/request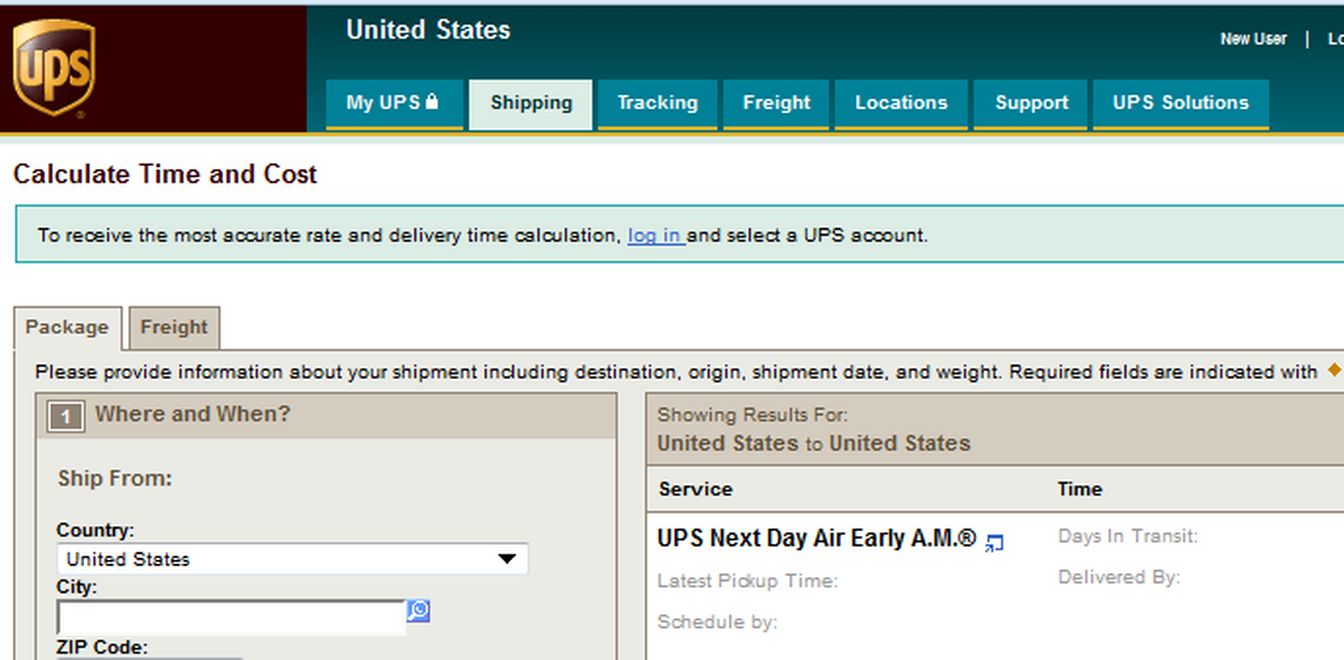 Fed Ex Rate Calculator
https://www.fedex.com/ratefinder/home?cc=US&language=en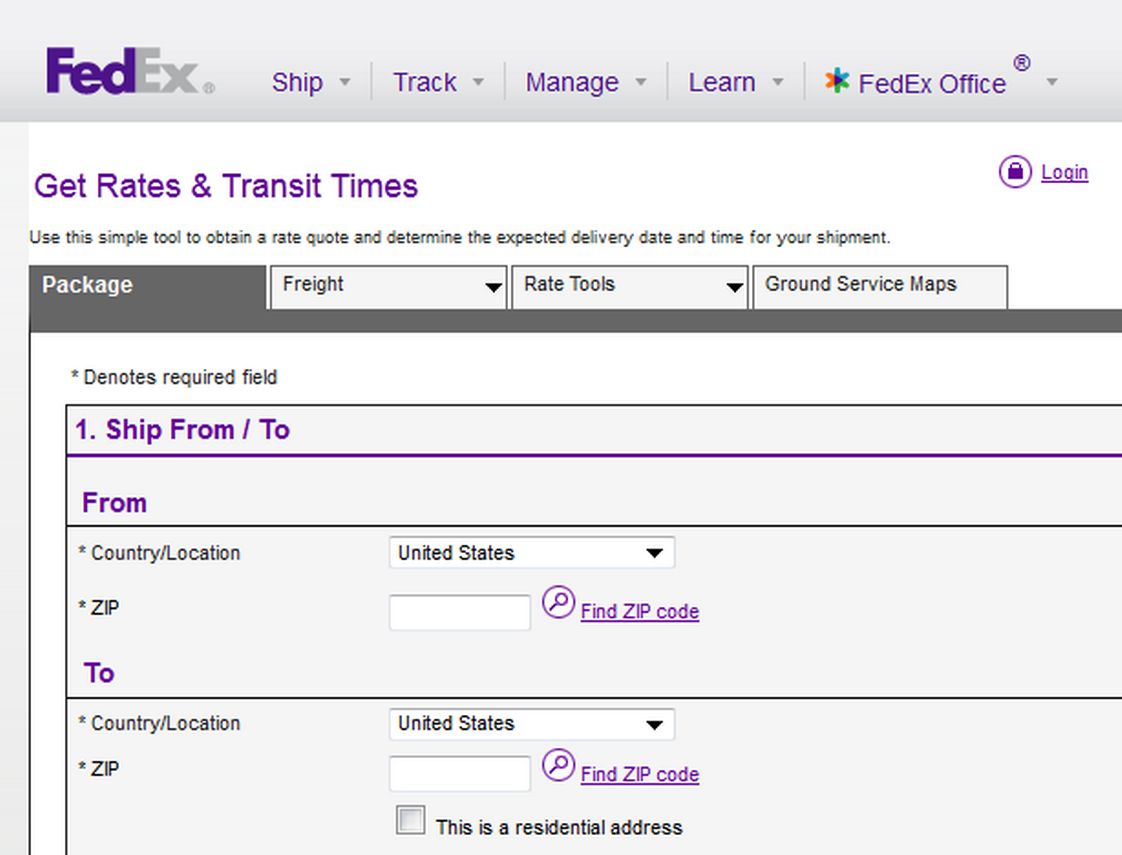 Compare Business and Personal Shipping Rates:

For quick, discounted shipping price comparison from the US and Canada, ShipGooder is a great tool to try. It recommends both the cheapest and quickest options so you can pick what works best for you. And, with a ShipGooder account, you can get discounted rates on USPS shipping for an even more economical shipping option.
The two pound rule: UPS and FedEx are cheaper for packages over 2 pounds, while the USPS is cheaper for packages under 2 pounds.
Dealing with Taxes
Click on Taxes and you will see a default tax rate called VAT which is a tax rate of 20 percent. Click New. We will create a Washington State Tax Rate of 10%. The real Washington State Sales tax rate is under 10% but then there are also local sales taxes that raise it above 10%. In reality, Washington state wants you to report your total taxable sales (which is everything except food) and then send the state a check for about 10 percent once a month or once a quarter depending on the amount of your total sales. So you could just let you customers know that you are including the tax in the price. It is like giving your customers a 10% discount. Just be aware that you need to send the State their 10 percent cut whether you collect it from your customers or not.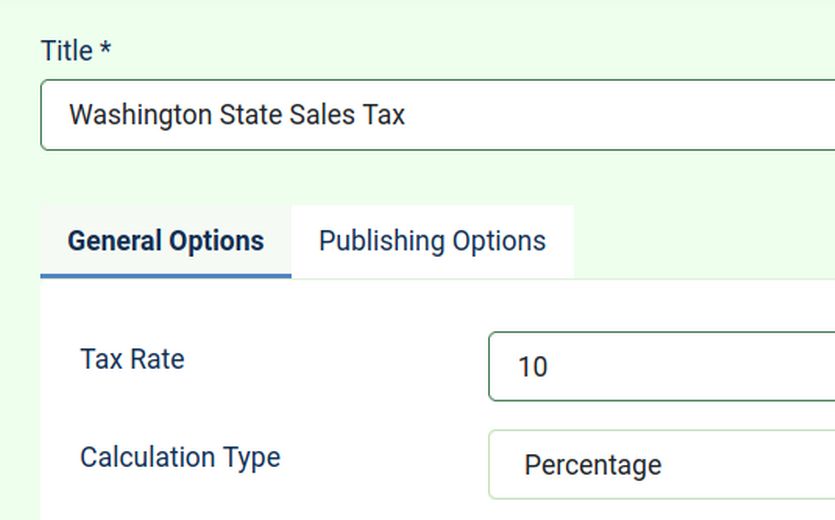 If you are not going to charge the VAT tax, then select and disable this option so it will hopefully not appear.
Finally, since we unpublished the VAT tax, it is no longer shown on each product. If you want or need to charge Washington State tax, you will need to go to each product and add the Washington State tax on the General options tab.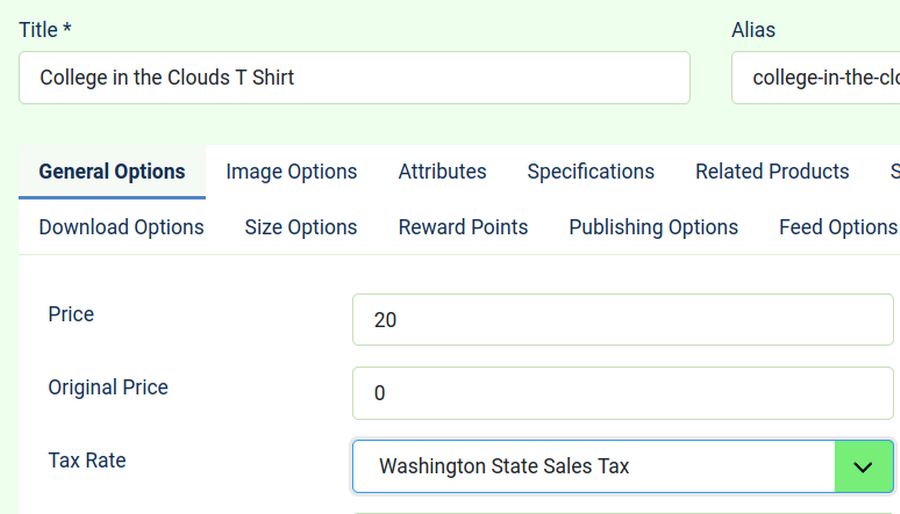 Here is an online store promoting their free shipping and no taxes:

What's Next?
In the next section, we will review the advantages and drawback of various Payment Gateways.